This page gives you help on how to use the different features of the 'Find a job' section.
---
Find a job
This section lets you search for a job vacancy and is available for any 16 to 19 year old  (or up to 25 if you are disabled or have additional learning needs) who lives in Cambridgeshire.
There are various ways to search:
Quick Search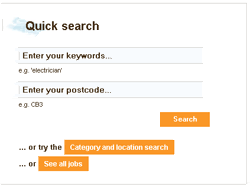 Enter a keyword and your nearest town then click on search to see a list of the current job vacancies.
Remember that there might not be any vacancies for certain keywords, so its best to use a fairly general keyword. Be prepared to try different keywords if your first one doesn't display any jobs.
Category and location search

This search lets you choose any number of job categories and your nearest town, in order to see a list of current job vacancies.
Tick as many of the job categories as you like or choose 'select all'. The number of jobs in each category is shown in brackets after the category name.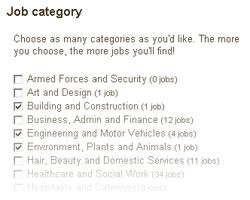 Choosing your nearest town will bring back all jobs in the categories you've chosen in order of distance from where you live. If, for example, you choose St. Ives, it won't just bring back jobs in St Ives, but it will show those ones first.
See all jobs
Click this button to see all the vacancies that are currently available.
---
Job Alerts
Job alerts let you know when there are new job vacancies in your chosen categories.
You can set-up and make changes to your job alerts in the 'My Account' section.
Click on the 'My Account' tab and scroll down the page to 'My Job Alerts'. You're asked whether you want alerts by email, and you have the option to switch them off.
Use the tick boxes to select as many categories as you like. Don't worry about how many categories you tick, as you won't receive more than one text message per day.
You're then asked to choose a distance for how far away you're willing to travel from your home postcode. This will ensure that you won't get alerts about jobs that are too far away.

Don't forget to click 'Save changes' when you have finished.

---
Create a CV
'Create a CV' is for creating a professional looking cv, ready to give to a potential employer. Once you've built your CV you can then print it, email it or save it as a word document or pdf.
Click on 'Create a CV' to get started.
Start working your way through each section by clicking on the 'Go' buttons.
Some sections ask you for more than just a few words of text, so they have a spell checker. Click on the spell check icon to activate this.
Don't forget to click Save and return once you have finished a section.
You can click the 'Preview' button at any time to see how your CV is looking.
When you've finished, you can choose to either print, email or export your CV.
The export button will ask you whether you require a pdf file or a doc file.
The pdf file will create a finished version of your CV that can be saved to your computer and emailed to an employer. The doc file will create a version of the CV that you can edit later using Microsoft Word.
We strongly recommend that you save your CV to your computer becasue if you let your Youthoria job account lapse you will not be able to get your CV back.
To get back to the main CV page, click 'Create a CV' whenever you wish.
---
My Account
The My Account page is for storing your personal details and making changes to your alert settings.
The top half of the page lets you update details such as address, phone number, email address and password.
The bottom half lets you edit your alert settings.
Some boxes have a '?' button. If you hover over these buttons they will give you a few pointers on how to fill it in.
Don't forget to click on 'Save changes' when you have finished in the My Account section.
---
Frequently Asked Questions
Searching for jobs
---
Why do I keep getting no results when I search for jobs?
There aren't always jobs in every single category or keyword, so try broadening your search a little. For example, try selecting more than one job category, or use a more general keyword.
How are the jobs chosen?
The Employer Services team carefully select vacancies to ensure they are appropriate for 16-19 year olds in Cambridgeshire to apply for.
How can I list a job on the site?
To list a job on the Youthoria website please use the contact us link at the bottom of this page
Creating a CV
---
How do I check my spelling?
Some of the sections have a spell check button.
Click on this to launch the spell checker.
How do I edit my CV in Microsoft word?
Click on the 'Export' button  and choose 'Export to DOC' .
Then click on 'Open' to start editing it straight away or 'Save' to save the file to your computer or usb drive etc. 
Registering and Logging in
---
How do I change my password?
Click on 'My Account' and scroll down to the password field.
Type in a new password and click on Save changes.

What do you do with my information?
The details that you provide will be used by Cambridgeshire County Council to assist with job matching and to help keep your contact details up to date.